Process Control and Optimization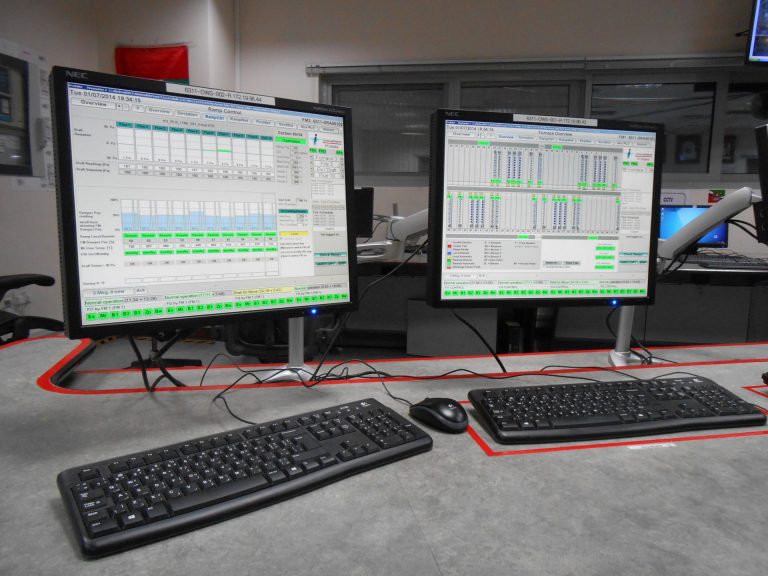 The process control system ProBake  Is designed for optimum control, operation and visualization of anode baking furnaces. It contains central control strategies and optimization modules. ProBake is connected to the process PLC system via Wireless Ethernet LAN and TCP/IP protocol.
System and Application Software
System Software WINDOWS 10 or Windows Server 2019
Application Software ProBake for anode baking furnaces
OPC server/client interface for EMS system data exchange
The menu driven ProBake application software contains the following functionality:
central PID control loops
fully graphic visualisation
menu driven operation
message and alarm system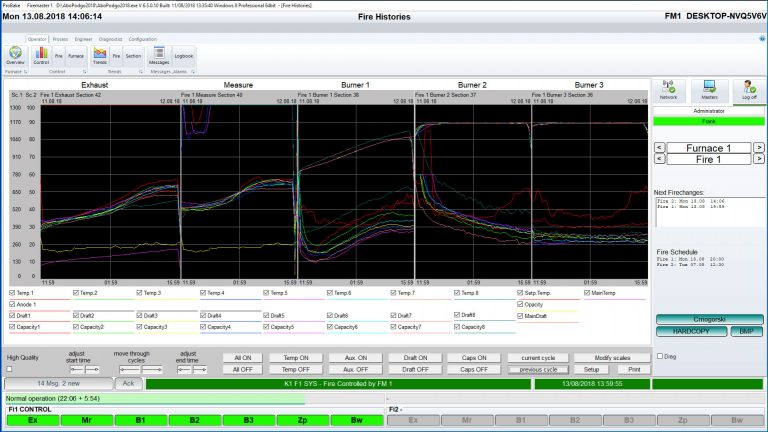 Advanced Optimization modules for best production performance
For optimizing of the baking process, advanced optimization modules are invented and acting on top of the basic control. These are
the Flooding Index Module , optimizing the fuel efficiency of the primary fuel at the burner ramps
the Pitch burn Module , maximizing the internal burn-out of the tar and volatiles
the Firing Index Module  , maximizing the anode quality consistency
the Flue Condition Index Module , identifying the condition of each flue and adapting the firing regime to decreasing flue performance, gaining operational safety ( f.e. automatic gas switch off at blocked flues)
The ProBake Control Architecture has been approved in numerous of installations worldwide. In level 1 all ramps are equipped with PLC'S of standard suppliers (Rockwell, Siemens, Schneider Modicon) performing the basic control and local automatic operation. The communication to the Level 2 ProBake PC is done by a high speed wireless radio controlled Ethernet LAN. The ProBake PC contains the sophisticated modules for optimizing the process in terms of pitch combustion, fuel efficiency and anode quality consistency. The ProBake PC also contains its own HMI for operation, data history and event logging.
Nevertheless it is possible to adapt to a standard HMI like RSView, InTouch, iFix etc. via our standard OPC interface.
As a unique advantage, the ProBake System can control up to 3 Furnaces and 15 fires with one PC and as one application only. The second or third PC is 100% redundant and acting hot-standby.